Historians Beware
The 2007 annual meeting of the American Historical Association in downtown Atlanta was accompanied by the following reports:
---
History News Network - George Mason University wrote:
...January 5, 2007
Today it rained. Crossing between the Hilton and the Marriott was treacherous at times. Making matters worse, a local cop stopped people from crossing in the middle of the street even though that's where the entrances to both hotels are. Laboriously we had to walk to the corner and wait for the light in the rain...

Update 1/8/07
In response to the news that Atlanta police had arrested Fernandez-Armesto for jaywalking [on the first day of the conference], the AHA council decided to send a letter of protest to local officials...

On the days after the professor's ordeal, the Atlanta police were continuing to stop historians from jaywalking. Anybody caught crossing the street against the light was reprimanded. Many were asked to produce their driver's license. But police did not arrest anybody. Some historians were mildly amused by the attentiveness of the police to the crime of jaywalking.
---
Atlanta Journal-Constitution (1-11-07) wrote:
...more historians who attended last week's conference of the American Historians Association have come forward with tales of hostile treatment by officers trying to curb jaywalking across Courtland Street.
---
An editorial in the Atlanta Journal-Constitution (1-12-07) wrote:
Other than librarians, it's hard to imagine a less rambunctious group than historians. Yet, one of the world's premier historians ended up in jail during last week's American Historical Association convention in downtown Atlanta... [for] jaywalking...

Depending on which version you believe, the story is either about a pompous professor or a power-mad cop. But the episode was probably more complex than either of those views would suggest...

The Hilton had hired [off-duty] Officer Kevin Leonpacher to direct hotel guests to crosswalks because of concerns for pedestrian safety...

Still, it's troubling that a respected historian ended up spending hours in an Atlanta jail for an offense that is common in downtown Atlanta. The incident has bruised Atlanta's reputation as a convention-friendly city known for Southern hospitality.

No one disputes that the officer had the authority to handcuff and subdue the historian, but did he have sufficient reason to do so?
---
The Atlanta Journal-Constitution (1-9-07) wrote:
"Where I come from, [Great Britain,] jaywalking is not a crime," [Prof. Fernandez-Armesto] said. "It did not occur to me that there was anything wrong with what I was doing."
---
An op ed written by Prof. Fernandez-Armesto for The Independent (London) (1-13-07) wrote:
Unwittingly, I crossed a street at what I later learnt was an unauthorised crossing. I had seen plenty of pedestrians precede me. There was no traffic in sight and no danger to me or anyone else...

...the Atlanta police are barbaric, brutal, and out of control. The violence I experienced was the worst of my sheltered life. Muggers who attacked me once near my home in Oxford were considerably more gentle with me than the Atlanta cops... Even had I really been a criminal, it would not have been necessary to treat me with such ferocity, as I am very obviously a slight and feeble person...

I can understand why some officers behave irrationally and unpredictably. Much of the downtown environment in their city is hideous... The sidewalks are thronged with beggars who can turn nasty at night. The crime rate is fearful... [but] ...in a city notorious for rape, murder and mayhem the police should have better things to do than persecute jaywalkers...
---
History News Network - George Mason University (1-12-07) wrote:
After sitting eight hours in jail [Fernandez-Armesto] was released on bond. The next day charges were dismissed after the prosecutor heard the professor's side of the story.
---
An underidentified commentator opines:
So, if these officers were hired by the hotels, which knew of the tendency of their guests to cross the street at that point, why weren't the officers directed to act as crossing guards and HELP people cross the street, instead of acting like bullies?

This incident begs the question of what sort of brutality the Atlanta police must be inflicting on someone that's not a thin white man in a suit....
Another underidentified commentator may offer a (pre-emptive) response:
I just returned from AHA and in the spirit of the jaywalking incident, must report that I witnessed an incident of potential police brutality literally five seconds after stepping onto the downtown streets from the MARTA station upon arriving in Atlanta. As I was trying to figure out which way to go to the Hilton, a young African American male (maybe 14 or 15) suddenly ran by me in a sprint, and then changed direction, and he was being chased by someone. I turned around and noticed that the kid ran right into a cop (white for the record). The cop grabbed the kid, threw him on the ground, and I saw him punch the kid very hard in the face before putting cuffs on him. It resembled several recent police bruatlity cases here in LA that were caught on tape. The kid was small and unarmed. This was my welcome to Atlanta.
Powered by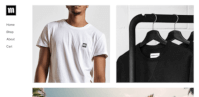 Create your own unique website with customizable templates.